Batal-Himno (Beatty)
From HymnWiki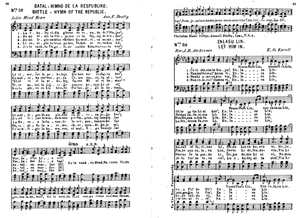 Batal-Himno (Beatty) is a tune apparently composed by Ann E. Beatty for her Esperanto translation of Julia Ward Howe's Battle Hymn of the Republic, entitled "Batal-Himno de la Respubliko". Both the translation and the tune were published in Espero Internacia (hymn no. 58), ca. 1920, the first significant Esperanto-language hymnal published in the United States. Because Beatty's refrain differs metrically from Howe's, this tune is not interchangeable with Battle Hymn.
Sheet Music
Version as seen in Espero Internacia (no. 58; p. 56)
Lyrics
1. La okuloj vidis gloron de venado de l' Sinjor',
Li elserĉas la pekulojn Jes kun tre indigna kor';
Li malligos Sian glavon en severa juĝa hor';
Marŝadas Lia ver'.

ĤORO A.E.B.
De la sankta Mond-Savanto Vidis gloron la homar',
En la mondo tiel sanga estas nun martirtombar',
Estu jena la rakonto, ke ne restu sklavular'!
Antaŭen marŝas Di'.

2. Ho mi vidis la Sinjoron en la fajroj de tendar',
En malseka ros' vespera Ĉiam staris la altar'.
Jes mi legas la kondamnon per flagrantaj lampoj ĉar
Marŝadas Lia tag'.

3. Jes mi legis sanktan skribon En multvica armilar',
"Kiel vi al la pekuloj, faros Mi al vi homar'"
La Heroo la Savanto la serpenton venku ĉar
Antaŭen marŝas Di'.

4. Li sonigis la trumpeton, Vokon ne revokos Li;
Vere antaŭ la juĝseĝo provos korojn Li al ni;
Ho, rapidu la animo, ekrespondu ĝoje mi,
Antaŭen marŝas Di'.

5. Jen la sankta Virgulino naskis Kriston trans la mar',
Kun la gloro en Lia brusto Por ŝanĝiĝu la homar'.
Li sanktigis la homaron, ni malligu homojn ĉar
Antaŭen marŝas Di'.